Solar Inverter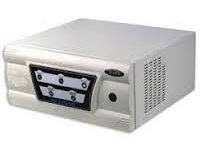 The Sun is a vital source of energy. Life on earth is completely dependent on only a part of the suns's total energy. Renewable energy from the sun is abundant, clean, silent, inexhaustible and moreover in this expensive world, it is free.
Solar Power Systems :
Works on both Solar and AC Mains Power depending on Sun light Availability and energy requirement.
How it is works:
Solar PV Module converts Sunlight into DC Power and this is stored in the Battery bank. Solar Charger optimizes Solar charging and prevents Battery Over charger / Deep discharge. Inverter converts DC Power into AC Power. In rural areas where Grid power is not available. The system shall work only on Solar Power.
Key Features :
DSP based control guarantees high reliability.
Pure Sine Wave output
30% More energy is harvested by using MPPT solar charger
Autopriority logic in the charger for both mains and solar inputs
If the load is less than 5W, the inverter automatically switches to sleep mode to save power
Compact and light weight
User friendly installation
High Efficiency and extended backup time
Normal and Computer mode
Noiseless operation of fans, lamps and appliance
Liquid crystal display